Plot / New Plot / Molecular Graph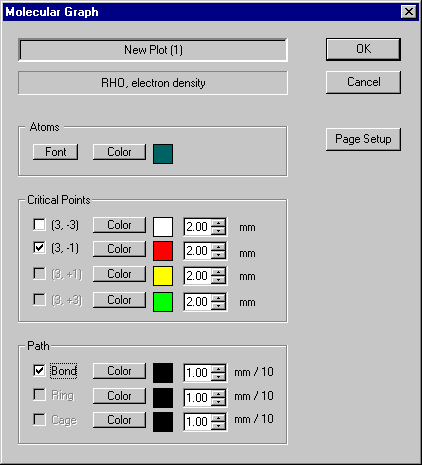 General
| | |
| --- | --- |
| OK: | Press this button to close the dialog and create the plot with current parameters. |
| Cancel: | Press this button to close the form and to reject any changes. |
| Page Setup | Press this button to open the page setup form, where the global layout of the plot is defined (orientation, page size,...). |
Atoms:
| | |
| --- | --- |
| Font: | Define the font for the atoms, e.g. size, style. |
| Color: | Define the font color (displayed beside the color button) |
Critical Points:
These checkboxes are available, if critical points are calculated. If the checkbox for a type of critical points is marked, these will be displayed as a filled circle with the chosen color. The diameter of the circle can be adjusted and is always defined in mm.
Path:
Calculated paths can be selected for display. The color and line size (thickness) can be changed. Thickness unit is x/10 mm.